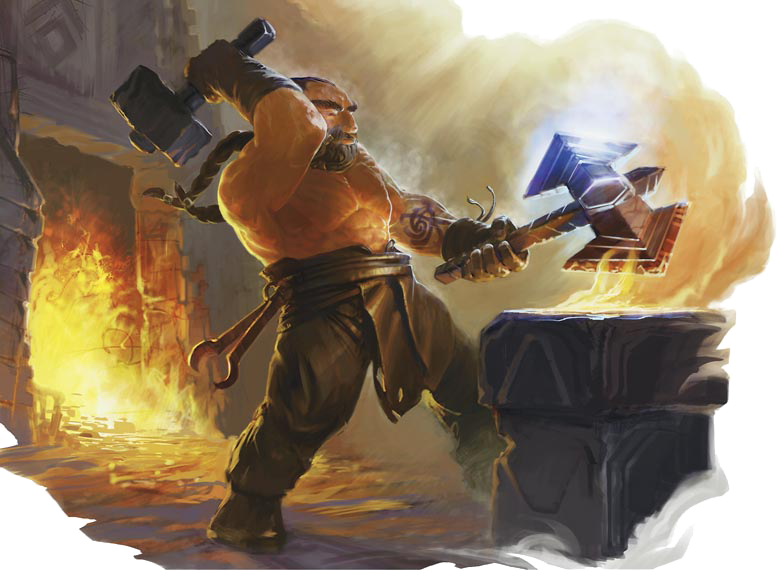 | | |
| --- | --- |
| Name: | Galtar Thunderbeard |
| Race: | Dwarven |
| Profession: | Weaponsmith |
| Gender: | Male |
| Age: | 72 |
| Height: | 1.45m |
| Weight: | 70 kg |
| Starting team: | Prisoners |
Passions
| | |
| --- | --- |
| Mission: | Save the warlocks. |
| Duty: | Help the ones in need. |
| Craving: | |
XP:



Problems
Misplaced Confidence (Inspire):
Any Inspire roll has +3 difficulty. If you fail a roll because of that, you get 1 XP.
Stats and Skills
Body
5
Sense
2
Charm
1
Coordination
1
Command
3
Knowledge
2
Athletics
Endurance
Fight
Parry
Run
Vigor
Expert: Smithing
3
5
5
0
0
3
2+MD
Direction
Eerie
Empathy
Hearing
Scrutinize
Sight
2
0
3
1
0
0
Fascinate
Graces
Lie
Jest
Plead
0
0
0
0
0

Climb
Dodge
Perform
Ride
Stealth
Weapon:
2
0
0
0
1
0

Haggle
Inspire
Intimidate
Perform: Sing
4
2
1
1

Counterspell
Healing
Language: Dwarven
Language: Common
Language: Smokt
Lore
Strategy
Tactics
0
0
MD
2
1
0
1
3
Weapons
| Weapon | Killing | Shock | Notes |
| --- | --- | --- | --- |
| Massive Battleaxe | W+2 | W | Req. two hands and Body at least 4 |
| Battleaxe | W+1 | W | Req. two hands |
| Longaxe | W+1 | 0 | |
| Hand axe | W | 0 | |
| Punch or kick | 0 | W | |
| Gauntleted punch | 0 | W+1 | |
| | | | |
Armor
| Armor Type | Locations covered | AR | Weigth |
| --- | --- | --- | --- |
| Full Plate Armor | 1-10 | 3 | H |
| Breastplate | 7-9 | 3 | M |
| Steel Gauntlets | 4 & 6 | 3 | M |
| Reinforced Full Helmet | 10 | 3 | M |
| Iron Cap | 10 | 2 | L |
| Chain Shirt | 3-9 | 2 | M |
| Sturdy Leather Boots | 1-2 | 1 | L |
| | | | |
Racials / Advantages
Dark-adapted
When they're in dim light or even complete darkness, they can still roll Scrutinize, Sight or Direction without penalty or Difficulty.
Light-sensitive
In full daylight, they take a -2d penalty to Scrutinize, Sight and Direction. Moreover, in sunshine they can't aim at individuals out beyond sixty feet with hand-held missile weapons. (They are not penalized for aiming at a distant crowd with a longbow or aiming a catapult. They're not blind.)
Leather Hard
You have an extra wound box in every hit location.
Thick Headed (1 point)
You have an extra wound box in your head.
Esoteric Disciplines
Metal Heart
Weapon Adoration (1 point)
In addition to the normal toil with a whetstone, this is a method of sharpening a blade that seems to give the weapon a mind of its own. The next time a success is rolled when striking with the adored weapon, it gains a +1 Width bonus. Performing the Weapon Adoration takes about twenty minutes and only works on swords, knives and axes. anything that cuts or chops. Weapons that pierce or bludgeon don't benefit from it.
The Covetous Twist (2 points)
This is one key to the dwarven dominance of the jewelry market. When a goldsmith who knows the Covetous Twist incorporates it into a piece of worked gold, the item becomes preternaturally compelling. (In game terms, the maker has to roll a success on a smithing set to create it.) When selling an item made with Covetous Twist, or offering it for trade, it adds a +MD to one's Haggle pool.
Love Iron Without Fear (3 points)
The dwarven passion for metal begins to get reciprocated at this point. When struck by any weapon made of metal, the character who knows this discipline takes 1 less Shock and Killing damage automatically.
Fulfillment of Form (4 points)
If a character has a quantity of unworked mineral wealth, he can take a number of days equal to its Wealth rating and make a smithing roll of some type to begin forging it into items of value. (Finishing work can be done by less accomplished smiths and apprentices.) If his smithing roll is a success, the finished goods are worth 1 Wealth more than the raw metal.
This can also be applied to a Company. Spend a month applying Fulfillment of Form on Treasure that's based largely on raw ore to end that month with a permanent +1 Treasure increase.
Master Forge (5 points)
Working off and on for about a month, the character can (with a successful blacksmithing roll) create a masterpiece weapon exquisitely balanced and tailor-made for one person. If the designated owner is using it, the weapon gives a +2d bonus to all attacks, or offsets two dice of penalties. If anyone else wields it, the bonus drops to +1d. In dwarf culture, if a weapon is recognized as a masterpiece by two smiths of other hults, it is formally named and put on a registry of dwarven cultural treasures. Currently the list numbers 85, and a good half of them have been lost or buried with their rightful possessors.
Dwarven Way
Tend Your Tools (1 point)
Dwarves know how metal bends, how it breaks and how it can be repaired. Sharpening a knife isn't a chore to someone who tends his tools; it's a pleasure.
When a character has this discipline, any metal tool owned for more than a week is in excellent condition. When making any sort of Expert: Craftsman roll for a toolfocussed action, he can add a +1d bonus or ignore a single die's worth of penalties. If he owns a dwarf-forged weapon that relies on cutting or slicing, its attacks do an extra point of Shock damage, thanks to excruciating keenness.
Soul Armor (ignore flavor text)
Brace for the Blow (1 point)
If the character takes no other action in a combat round than to brace for impact, you can roll his Endurance pool and ignore W+1S damage. Note that timing matters on this: If the attack goes of before his action, he's hurt as usual.
Move With the Strike (2 Points)
As comfort with the techniques grows, the tribesman learns how to redirect the impacts so they do less harm. Now you can roll Endurance as part of a multiple action, without penalties, and ignore WS damage after getting the set.
Lizard Trance (3 Points)
By a process of 'thinking no thoughts, very hard' (a phrase that was never translated to any Uld's satisfaction after they captured a Lizard tribe exile) the warrior simply ignores pain. At least, some pain.
With an Endurance success, he can ignore a point of Shock every round for a number of rounds equal to the roll's Height. This takes effect the round after the roll.
Shield from the Light-Bearers (4 Points)
The Ulds were both distressed and flattered to learn the Lizard tribe had developed a specific countermeasure for their advanced weaponry. With an Endurance set, the tribesman can convert Killing damage to Shock. Specifically, he can change points equal to the Width of his Endurance roll. This ability only works on one attack made either the round it's rolled or the next round.
Unbruising Flesh (5 Points)
An Endurance roll (which can be piggybacked onto another action with no multiple-action penalty) produces a number of 'Soak Points' equal to its Width. By spending a Soak Point, the character can either ignore a point of Shock or change a point of Killing damage to Shock. The Soak Points persist until the end of combat, or until the character uses Unbruising Flesh again.
The Divine Regimen
Lifting Stance (1 point)
If you have a chance to plant yourself well, adjust your grip and get at just the right balance point, you can add a +2d bonus to your Athletics roll when you're attempting to lift a heavy object.
Athlete (2 Points)
Ignore multiple-action penalties when using Athletics as a part of the multiple action.
Immobile Position (3 Points)
If you have a chance to get positioned, you cannot be pushed back or knocked down unless your opponent beats a Difficulty equal to your Body Stat. If you use Immobile Position in combat, it requires a full round to establish, and its protection ceases if you dodge or move from that spot. You can still parry and attack, however
Athletic Perfection (4 Points)
Any time you roll Body+Athletics, you can change the Height of one set to 10. If any of the previous techniques apply to the situation at hand, you may use them as well.
Unyielding Vigor (5 Points)
You may continue to use an arm or leg normally, even when it's filled with Shock or Killing damage. (If the limb has actually been severed, you can't use it, of course.) Furthermore, any time you roll any Body Skill, your pool cannot be reduced by fatigue or injury. Penalties for attempting maneuvers (including multiple actions) are assessed as usual.
---
Story
DM concept
Een dwergse smid in een menselijke stad. Wijd en zijd was je bekend als uitstekend vakman. Je kon min-of-meer je werk blijven doen maar dan voor de grayskins. Dat zat je niet lekker en je begon te morren. Je bent uiteindelijk een half jaar geleden opgepakt. Een concurrent heeft je erbij gelapt.

Je clangenoten zitten in de bergen die jullie de Aodyaorr noemen. Joviaal, ruimhartig maar ook wat lomp en lawaaierig. Kortom, dat gaat niet zo best samen met de Elfse boogschutter.
Real version
Galtar is a strong muscular dwarf. He has a black with gray beard with often 2 tails in it. Also he has a tattoo of his clan's symbol on his left forearm.
He was born in the Aodyaorr mountains as member of the Thunderbeard clan. He grew up in their underground town, where he also got training in all the important stuff: smithing, trading the things they made and fighting in armor.
He was 52 when the Departure happened. During that time he was blacksmith in Griffinvale for a couple of years. He helped defending the city when it was under attack, because he was pretty skilled with weapons. But the grayskins were just with too many. Without the help of the gods they didn't stood a chance. Luckely they decided to not just kill everyone, and it turned out that they could use Galtar to make weapons for them.
Years went by this way. Galtar couldn't stand it if the grayskins would use dwarven quality weapons, so he started to make small flaws in all the weapons. Not balanced properly, just not the correct shape, etc. Small enough so that they wouldn't notice, but big enough to influence fighting with them.
It was 18 years after the departure when a human called $marcel came by his forge. He was talking about a resistance against the grayskins, and how they would defeat them. His words were very inspiring. Galtar made a deal with him that he would make weapons and other stuff for them to help them set up this resistance. The easiest way to do this would by just staying at his forge, since here he had the materials and equipement for it.
Everytime Galtar finished something, a small halfling called $ferry would come by and take it with him. It was a mystery how that small humanoid could get weapons bigger as himself out of the city unnoticed, but still, he managed.
A year ago Derek, the other smith of the city overheared Galtar talking to the halfling. He told this to the grayskins, and soon Galtar was taking away from his home and transported to a prison cave, which was one week away from Griffinvale.
Life there was a lot harsher than in the city. Working hard for long days, bad food, and being whipped for not reason at all. Since Galtar often stood up for the weaker around him, he ended up in the "special cell" quite some times. There he became befriended with $stijn, a very interesting person, who sometimes talked to him about the gods, and how they still existed. It all sounded very convincing, and so he kept hope.
Then it was the night when it all happened. An hour after midnight the cell door opened, and there was a familiar face, $bevrijder...
Char costs:
Stats: 35
Skills: 37 (20 + 2 + 0 + 2 + 7 + 6)
ED: 13 (6 + 1 + 6)
Adv.: 1
Total: 85