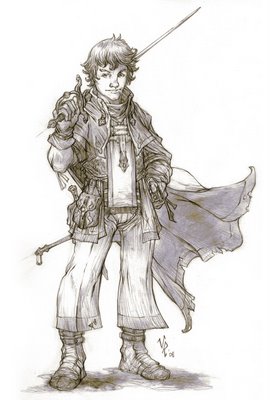 | | |
| --- | --- |
| Name: | Tharen Sigren |
| Race: | Halfling |
| Profession: | Retired Artist, Distributor of wealth |
| Gender: | Male |
| Age: | 38 |
| Height: | Unmeasured |
| Weight: | Unmeasured |
| Starting team: | Liberators |
Passions
| | |
| --- | --- |
| Mission: | |
| Duty: | Don't overdo it. |
| Craving | Enrich the poor, enpoor the rich |
XP:
3;
68 earned,
65 spent as of session 34
Stats and Skills
Body
1
Sense
6
Charm
2
Coordination
6
Command
1
Knowledge
1
Athletics
Endurance
Fight
Parry
Run
Vigor
0
0
2
0
2
3
Direction
Eerie
Empathy
Hearing
Scrutinize
Sight
Expert:Farmer

0
1
0
2
1
3
MD
Fascinate
Graces
Lie
Jest
Plead
2
1
3
0
1
Climb
Dodge
Perform
Ride
Stealth
Weapon
2
4
1
1
4
3
Haggle
Inspire
Intimidate
Perform: Sing
2
0
0
0
Counterspell
Healing
Language: Common
Lore
Strategy
Tactics

0
0
MD
0
0
0
Advantages
Wealth (1 point)
Wealth of 1.
Racial
Halflings are small
Any hit to location 7 is a miss on a halfling. They're small targets. But their base movement is only ten feet per combat round, not fifteen.
Halflings are excellent farmers
All Halflings get a free MD in Expert:Farmer
Gnomish digestion
Any poison ingested or otherwise inflicted by a halfling has its Potency diminished by two
Seasickness
Whenever traveling on water, cut off from the soil, halflings take a Difficulty of 3 on all Coordination, Command and Body based rolls
Esotheric Disciplines
Racial
Draw upon the roots of the earth (1 point)
Once per day a character can make a Vigor roll to regain hit points after a good night's rest. If a halfling makes this roll while barefoot on fertile soil, he adds a +2d bonus
Cheerful Humility (1 point)
Halflings get a +2d bonus to Graces rolls when dealing with elves and orcs, simply because the idea of treating others with respect is somewhat alien to the mainstream of those cultures
Stealth: Dancing Unseen
(Page 79 of "The First Year of Our Reigh")
Dance of the Burglar (1 Point)
When you use Stealth with one other skill, or attempt to do two stealthy things simultaneously (such as remain both unseen and unheard) you may roll without the usual one-die multiple action penalty.
Shadows, Haze And Undergrowth (2 Points)
When the character has some form of cover, or something that obscures or interrupts vision, he can either remove all Penalties and Difficulties from his Stealth roll, or he can add a +1d bonus to his pool.
Dancing Without An Audience (3 Points)
When your character masters this technique, her sense of where people are looking is so refined that she can dodge and weave out of their way - contorting herself to forever be out of their visual field. To someone unaffected by the technique, she appears to be frantically ducking, stepping and twisting away from her oblivious targets.
Here's how the mechanics work. You roll your Coordination+Stealth pool, but your successes do not become Gobble Dice against Sense rolls. Instead, you can pick a number of persons in your presence, a number equal to the Width of your roll. Those people cannot see the character. Period. No more than they could if she were behind a brick wall. They don't get rolls to detect her because she's placed herself outside their visual field. Other people can see her with any successful Sense+Sight roll, so this isn't a genius idea against a dozen searchers, but against one or two it works wonderfully.
Of course, it's difficult to keep vigorously dodging away from someone's eyes, so she's only protected for a number of rounds equal to the Height of the roll - and then, only if she doesn't choose to attack anyone. However, she can use those rounds to look for good hiding places, possibly giving you bonus dice on your next Stealth roll.
Instinct For Distraction (4 Points)
If she's under observation, and something startling happens, she may take advantage of her observer's momentary distraction to duck out of the way and begin Dancing Unseen. She may do this if she creates the distraction or if she's as surprised as anyone else. The only restrictions are that (1) she must be able to move and (2) the distraction is something that makes any observers look away from her or that gets between her and them, even for a moment. No roll is required to use an Instinct For Distraction. It just lets characters use Dancing Unseen when they normally couldn't.
Assassin's Dance (5 Points)
If you successfully combine a Coordination+Stealth roll with any attack action, your opponent may not dodge or parry. Essentially, your character has ducked out of his vision in the middle of the fight, so she can strike him from his blind side. This combines with Dance of the Burglar.